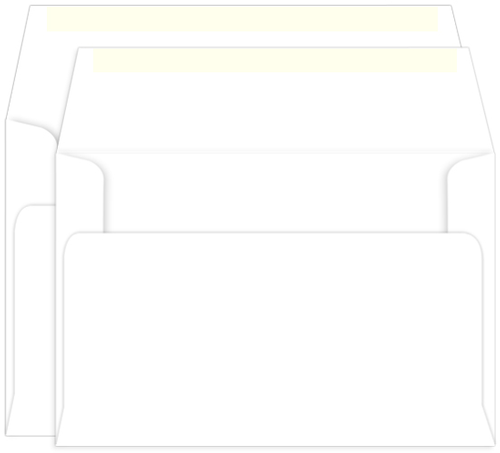 Radiant White Double Unlined Envelopes - A9 LCI Smooth 5 ¾ x 8 ¾ 70T
Order this envelope printed using a larger screen: desktop/laptop computer or tablet.
Product Description
To fit the popular 5 1/2 x 8 1/2 A9 invitation card, we created this A9 double envelope set using a 5 3/4 x 8 3/4 (A9) envelope and an 6 x 9 1/2 (A10) envelope. Envelopes are made with smooth finish, wedding quality 70lb text paper. Both the inner and outer envelopes in this set have a gum seal and are unlined. Though there is slightly more room between the inner and outer envelopes in this set than there is in a traditional set, the two are a nice fit. Envelopes can be ordered blank or printed for your convenience.
Category Description: Double Unlined Envelopes
About Double Wedding Envelopes
Double envelope sets are a wedding tradition, consisting of an inner & outer envelope. The slightly smaller inner (unlined or lined) envelope houses the invitation ensemble & fits nicely inside of the slightly larger outer mailing envelope. During the rigors of mailing, the outer mailing envelope may get marked up in its travels, but the inner envelope that houses invitation ensemble will stay pristine for guests viewing pleasure. Choose from a dozen popular sizes and formats to complement your event.
What's Included In The Set
Outer Envelopes Unlined
Inner Envelopes Lined or Unlined
Example: If box is 25 you will get 25 Inner & 25 Outer
Details About Inner Envelopes
Traditionally Inner envelopes are un-gummed because they are not meant to be sealed. Some sets in our collection have gummed inners, we recommend not sealing.
Pointed Flap Double Lined: Metallic Liners - Gummed Seal
Square Flap Double Lined: A9 (5 3/4 x 8 3/4) & A10 (6 x 9 1/2) Size - Gummed Seal
Square Flap Double Unlined: A9 (5 3/4 x 8 3/4) & A10 (6 x 9 1/2) Size - Gummed Seal
Most Common RSVP Envelopes
Double envelopes are not the only wedding envelopes, for a wider selection see all our wedding envelopes
Loading...
Blog Articles: