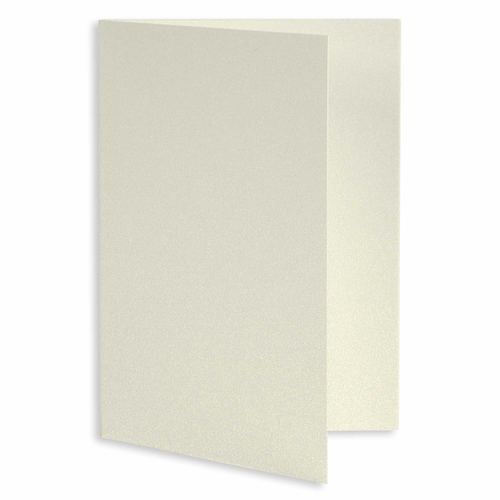 Opal Folded Card - A7 Stardream Metallic 5 ⅛ x 7 105C
Order this card printed using a larger screen: desktop/laptop computer or tablet.
Product Description
Metallic ivory A7, 5 1/8 x 7 blank invitation card - Stardream Opal: This folding 5x7 blank card is made with thick, heavy 105lb ivory card stock with a shimmering, pearlized finish on both sides. Order blank or take advantage of our invitation printing service. Matching metallic Opal envelopes and papers are available. Card comes pre-cut & scored to fold to 5 1/8 x 7 (A7), a popular invitation, greeting card, and program size. Opal card stock can be printed with a high end laser and with conventional methods, but due to this card's size, weight, and unique finish, we recommend ordering a sample to test prior to purchase.
Category Description: Stardream Blank Cards
About Stardream Blank Cards
Stardream metallic blank cards feature bright, vibrant color and a glistening metallic finish on both sides. Cards are available in a slew of popular sizes and in flat or folding versions. They are made of thick, heavy 105lb card stock that is pre-cut and pre-scored, in the case of folding cards.
Though we have had success printing these cards with a laser printer, due to their very heavy weight and unique finish, they may not be suitable for all home printers. We recommend ordering a sample and testing prior to purchase.
Conventional print methods including embossing and thermography can also be used on this stock. Pair with matching Stardream envelopes, papers, pockets, and wraps for a consistent look.
Loading...