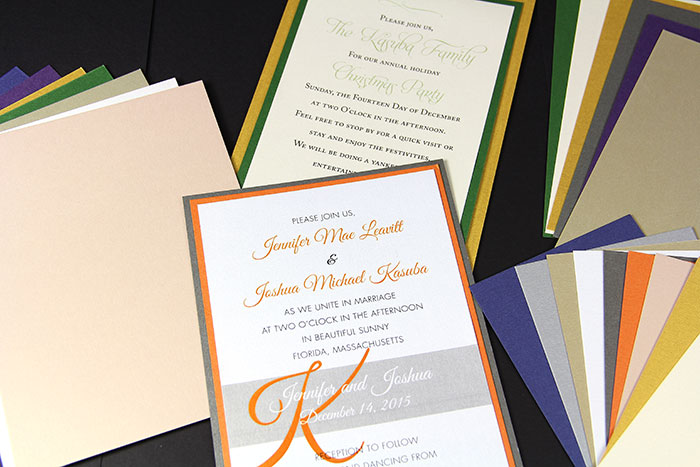 Curious Metallic
Card Creations
This photo features all the different Curious Metallic flat card colors, sizes available and how they can be combined to create beautiful invitation designs for any occasion from weddings to holidays. Each color has its own uniqueness with shimmer and sparkles.
The flat cards are available in:
A1 (3 1/2 x 4 7/8)
A2 (4 1/4 x 5 1/2)
5 1/4 square
6 1/4 square
4 7/8 x 6 7/8 (A7 pockets & wraps)
A7 (5 1/8 x 7)
4 x 9 1/4
A9 (5 1/2 x 8 1/2)

These pictures depict the variety of colors available in the Curious Metallic flat cards and gives a great example of the sparkle and shimmer present in each color.

Left: Curious Ice Silver (White), Curious Mandarin (Orange) and Curious Ionized (Dark Gray) are the three beautiful colors used in combination to create this stylish wedding invitation. The paper colors are used to accent the printing colors featured in the design of the 5.125" x 7" flat card invitation. This invitation would pair well with the A7, Old World Style envelope pictured in Curious Ice Silver or Curious Ionized.
Right: This holiday invitation was created layering three different colored Curious Metallic 5.125" x 7" flat cards. The top printed card features the elegant Curious White Gold color, layered on top of the Curious Botonic Green, followed by the vibrant Curious Super Gold. This color combination shows the kind of fun invitations you could create for an upcoming holiday party. Also featured are the three matching A7, Old World style flap envelopes available in the same colors.