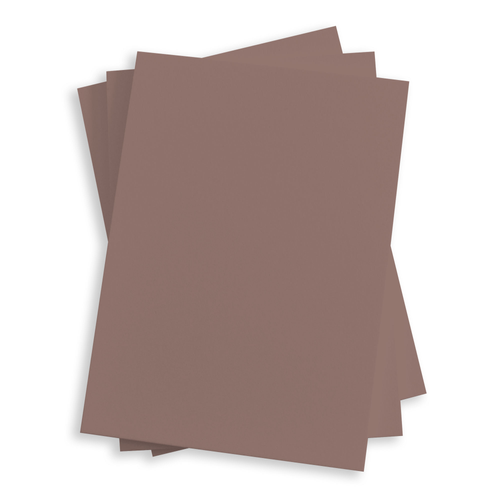 USED 4 Flat Card - A7 Gmund Used 5 ⅛ x 7 111C
Order this card printed using a larger screen: desktop/laptop computer or tablet.
Product Description
100% recycled mauve A7 flat card - Gmund Used 4. This card is pre-cut to 5 1/8 x 7 inches and can be ordered blank or printed, perfect for use as an invitation, save the date, or note card. This thick heavy, 111 lb (300 gsm) card is a muted purple-gray, or mauve color with a smooth, matte finish. Due to its size and weight, it can not be printed with all home printers. We recommend ordering a sample to test prior to purchase. Gmund Used is made with 100% reused, de-inked wood-pulp paper fibers, turning otherwise discarded paper into designer paper. No additional trees are cut to create this paper, thus making it an eco-friendly, sustainable choice. Used comes in 10 colors and in several sizes.
Category Description: Gmund Used Blank Cards
Colorful, Sustainable Cards You Can Feel Good About
Gmund Used has some history behind it, made with 100% reused, de-inked wood-pulp paper fibers. Thanks to Gmund's maximum fiber reclamation process, discarded paper is transformed into designer paper in the form of Used. It has a smooth, matte finish and is offered in chic and unique colors you won't find in other recycled papers.
Used is a true "trash to treasure" story and is created using smart and sustainable practices.
No additional trees are cut down to create Used
Cutting waste and copy paper is upcycled into upscale paper
Made with 70% post consumer waste and 30% post industrial waste
Paper fiber can be used and reused up to seven times
About the Cool Colors
The color palette of this collection is so unique that the color names have been replaced by a number. All ten shades are vibrant yet natural, with hues reminiscent of rich evergreens, spring flowers, water, and skies.
Product specs
Item Code:
USED7C-4
Paper:
-
Format:

-

Size:

-

Size Name:

-

Color:

Purple

Finish:

-

Eco Features:

-

Brand:

Gmund Used

Printer:

-

[disclaimer]
Print Template:
Visit Templates Page