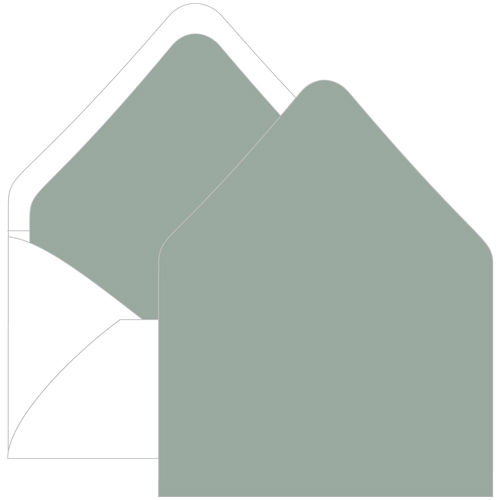 Sage Euro Flap Envelope Liner - A7 Gmund Colors Matt
Order this card printed using a larger screen: desktop/laptop computer or tablet.
Product Description
A7 Euro flap envelope liners made from text weight Colors Matt Sage Green paper. Envelope liner paper is cut to fit LCI Paper A7 Euro flap, or deep neck envelopes. Order blank or printed with your custom design. Envelopes & adhesive sold separately.
Category Description: Euro Flap Envelope Liners
About Euro Flap Envelope Liner Paper
LINER PAPER ONLY. ENVELOPES SOLD SEPARATELY.
Create your own unique lined Euro flap envelopes with our DIY liner paper. Choose from a variety of colors and matte and metallic finishes. Mix and match with our Euro flap envelopes to create a design that's truly yours.
Order Blank or Printed
Order liners blank or printed with your custom design in black, full color, or white ink (for dark liners)!
Sized to Fit LCI's A7 Euro Flap Envelopes
Liners are pre-cut to fit our A7, 5 1/4 x 7 1/4 Euro flap envelopes. Liners are designed to sit right below the envelope gum seal and extend nearly to the bottom.
How to Adhere Euro Flap Liners
Liners do not contain adhesive. Glue or tape with the adhesive of your choice.
IMPORTANT NOTE: Use only a very thin line of adhesive around the perimeter of the flap only. Any more adhesive than this may cause wrinkling or bleed-through of adhesive. We recommend testing one envelope and letting it dry completely before lining them all.
Product specs
Item Code:
GMCLRELP7-SGE100
Paper:
-
Format:

-

Size:

-

Size Name:

-

Color:

Green,Grey

CMYK Match:

N/A

[disclaimer]
Finish:

-

Eco Features:

-

Brand:

Gmund Colors Matt

Printer:

-

[disclaimer]
Print Template:
Visit Templates Page
Loading...
QUESTION: Do liners come with adhesive?
ANSWER: Liners are just paper, no adhesive. Attach liners with glue or double sided tape.
QUESTION: Can I order Euro flap envelope liners printed?
ANSWER: Yes, liners can be ordered blank or custom printed with the design of your choice. Check the "Order Printed" box in the blue band to see liner printing options and prices.
QUESTION: Can I order euro flap envelope liner paper in other sizes?
ANSWER: We currently offer A7 size only, as this is the most popular. Stay tuned for more sizes!
QUESTION: Do you offer templates and instructions to print and cut your own euro flap envelope liners?
ANSWER: We sure do! Tutorial: Print & Cut Your Own Euro Flap Envelope Liners
QUESTION: Will these liners fit in straight flap envelopes?
ANSWER: No, but we offer straight flap liner paper as well.