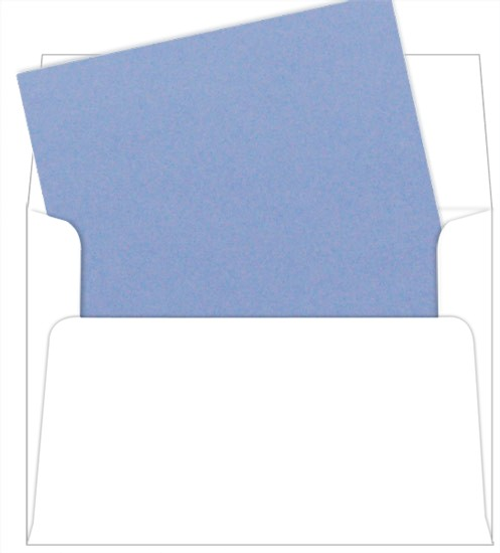 A7 Vista Metallic Envelope Liners, Stardream
Order this card printed using a larger screen: desktop/laptop computer or tablet.
Product Description
Metallic sky blue A7, 5x7 envelope liner paper - Stardream Vista: Line your own A7 envelopes with this shimmer blue envelope lining paper. Paper is medium weight 81lb text and is cut to 6 x 6 3/4 inches - a perfect fit for our A7 straight flap envelopes. Liner is designed to align with the envelopes gum seal and extend to the bottom. Adhere with glue or double sided tape of your choice. Metallic sky blue Stardream Vista cards and papers are available to make your own unique invitations with matching lined envelopes.
Category Description: Straight Flap Envelope Liners
Lining your envelopes with our envelope liners is fast, convenient and economical. Choose the liner color and paper finish you want in two popular sizes, A2 & A7. Envelope liners are designed to fit our straight, square flap envelopes only. Due to variance in manufacturing we can not guarantee our liners will fit envelopes purchased elsewhere.
Understanding the liner sizes
A2 envelopes, select the 4 1/2 x 5 1/2 liner size
A7 envelopes, select the 6 x 6 3/4 liner size
Our liners are designed to align with the gum seal of the envelope and extend down to the bottom of the envelope, stopping approximately 1/8 inch - 1/4 inch from the bottom of the envelope.
It's Easier Than You Think, to Line Your Envelopes
Lining your own envelopes like a pro is actually easier than you might think! All you need is the right adhesive and the right tops and tricks! Please consult the following helpful article: Line Envelopes Like a Pro - Best Glue, Tips, & Tricks
Loading...
QUESTION: Will straight flap envelope liners fit inside of your euro flap envelopes?
ANSWER: No, straight flap envelope liner paper is for our straight flap envelopes only. However, we also offer Euro flap envelope liners for our euro flap envelopes.
QUESTION: Does this liner paper come with an adhesive strip?
ANSWER: No, liner paper has no adhesive. Adhere liners with the glue or double sided tape of your choice.
QUESTION: Can I order these liners printed?
ANSWER: Absolutely! Send us your custom file and we will print before shipping. To order printed liners, check the Order Printed box in the blue band below the color chips.
QUESTION: Can I order just A2 and A7 size straight flap liner paper?
ANSWER: We currently stock these sizes only, as they are the most popular. However, we will custom cut straight flap liners for other envelope sizes on demand. Please get in touch with customer service for more details.