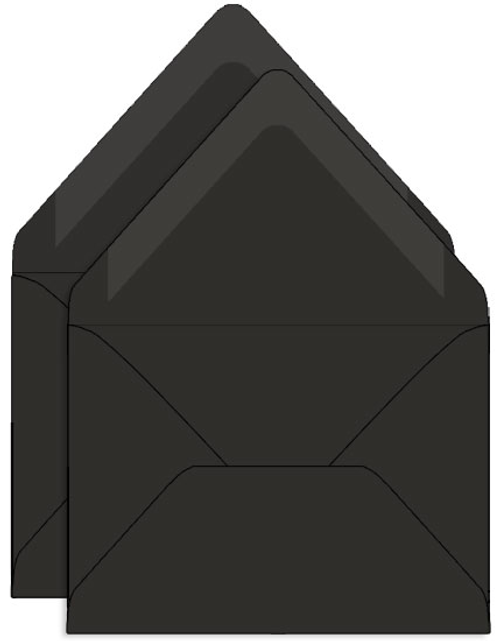 Licorice Black Double Envelopes - A7 Gmund Colors Matt 5 ¼ x 7 ¼ Euro Flap 81T
Order this envelope printed using a larger screen: desktop/laptop computer or tablet.
Product Description
Licorice, faded black double wedding envelope set with a modern European flap made for 5x7, A7 invitations. Envelopes are made with heavyweight, Colors Matte Licorice Black paper and have a smooth, matte finish. Each set consists of 25 inner A7 (5 1/4 x 7 1/4) envelopes and 25 outer A7.5 (5 1/2 x 7 1/2) envelopes. Both envelopes have a gum, moisten and seal, seal. Order blank or professionally addressed and printed. Pair with matching Colors Matt papers.
Category Description: Double Euro Flap Envelopes
About Double Euro Flap Envelopes
Deep pointed european flap offered as a double wedding envelope set. True elegance, rich & thick papers.
What's Included In The Set
Outer Envelopes Unlined
Inner Envelopes Unlined
Example: If box is 25 you will get 25 Inner & 25 Outer
Details About Inner Envelopes
Traditionally Inner envelopes are un-gummed because they are not meant to be sealed. Both envelopes in this set have a gum seal. When using as an inner / outer set we recommend leaving the inner envelope un-sealed.
Product specs
Item Code:
LIB7E-DSET
Paper:
-
Format:

-

Size:

-

Size Name:

-

Color:

Black

CMYK Match:

N/A

[disclaimer]
Finish:

-

Eco Features:

-

Brand:

Gmund Colors Matt

Printer:

-

[disclaimer]
Print Template:
Visit Templates Page
Loading...
Blog Articles: