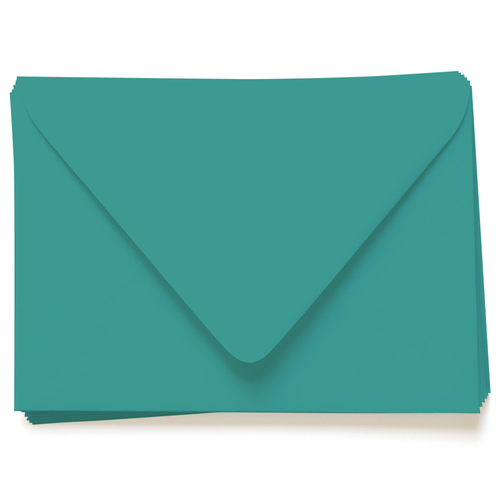 Tropical Blue Envelopes - A6 LCI Hue Matte 4 ¾ x 6 ½ Euro Flap 80T
Order this envelope printed using a larger screen: desktop/laptop computer or tablet.
Product Description
Tropical Blue A6 Euro Flap Envelopes for 4x6 cards. These premium envelopes are a striking Caribbean or turquoise blue color with a uniform matte finish. Envelopes are made with heavyweight 80lb paper and feature a stylish Euro, or deep neck flap. 4 3/4 x 6 1/2 (A6) size fits a 4 1/2 x 6 1/4 (A6) or 4 x 6 card perfectly. Use for greeting cards, stationery, invites and more. Order blank or printed in black, color, or white ink.
Category Description: LCI Hue Envelopes
About LCI Hue Envelopes
The LCI Hue envelope collection was designed with color, trend and fashion in mind. Each color hand selected, each envelope made with premium, deeply saturated paper, you can be confident you are choosing a fine quality, stylish and striking envelope for your invitations.
Heavyweight Paper for Envelopes that Feel Good
LCI Hue envelopes are made with thick, heavyweight, 80lb text paper. They feel great in the hand and make a great impression.
Rich Color & Uniform Matte Finish for Envelopes that Look Good
Envelopes are made with uniform, smooth, matte finish paper that is dyed to the core with rich color. The result is a collection of cool and colorful envelopes sure to stand out from the rest!
Variety of Popular Invitation Sizes
LCI Hue envelopes come in popular invitation, response card, note card and stationery sizes.
Blank or Printed & Addressed
Order blank for calligraphy or home printing or order printed with your guests' names and addresses. We offer black, color and white ink for a look that pops.
Quantities Small and Large
Order in quantities as small as 25 for small jobs, or in large, economical bulk packs.
Pair with Matching LCI Hue Papers
Matching LCI Hue Card Stock & Text Paper is available to complete the look. Shop standard sizes 8 1/2 x 11 and up, perfect for print.
Loading...