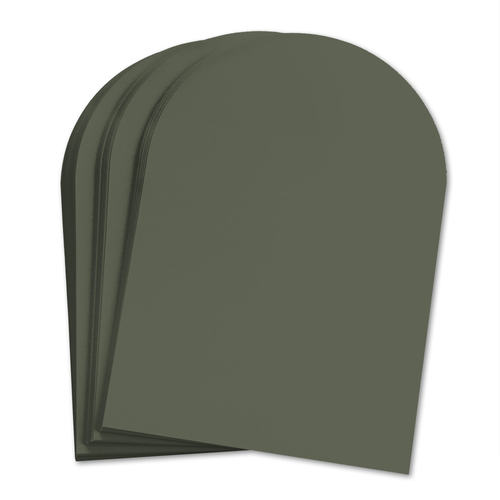 Seedling Green Arch Card - A2 Gmund Colors Matt 4 ¼ x 5 ½ 111C
Order this card printed using a larger screen: desktop/laptop computer or tablet.
Product Description
Seedling Green die cut arch shape card in A2 (4 1/4 x 5 1/2 inches) size. This modern and stylish card is made with smooth, matte, heavyweight card stock and features a striking arch shape. Its color is a dark, mossy green. This card is great for use as an invitation reply card or details card, or own its own as a note or thank you card. Order blank or printed with your custom design. Pair with matching envelopes and A7 arch or half arch cards, or mix and match to create something truly unique. Cards are pre-cut and can not be printed with bleeds (a design that goes all the way to the edge).
Category Description: Arch Cards
We know the importance of right texture for your cards. Fast delivery on various textures and finishes of blank cards for invitations.
Product specs
Item Code:
GMCLR-ACH2C-SDG
Paper:
-
Format:

-

Size:

-

Size Name:

-

Color:

Green

CMYK Match:

N/A

[disclaimer]
Finish:

-

Eco Features:

-

Brand:

Gmund Colors Matt

Printer:

-

[disclaimer]
Print Template:
Visit Templates Page
Loading...
QUESTION: Do you offer printing on arch cards?
ANSWER:We sure do! Just check the "click here to order your cards printed" box. Please note this option is not available on a mobile device.
QUESTION:Can I print bleeds on arch cards?
ANSWER:No, cards are pre-cut so we can not print designs with bleeds (text or graphics that go all the way to the edge of the card).
QUESTION: Do arch cards fit into envelopes?
ANSWER:Yes! A2 arch and half arch cards are 4 1/4 x 5 1/2 inches and fit into A2 envelopes which are 4 3/8 x 5 3/4. A7 arch and half arch cards are 5 x 7 inches and fit into A7 envelopes which are 5 1/4 x 7 1/4.
QUESTION:Are these shape cards suitable for arch invitations?
ANSWER:Arch and half arch cards are great for use as invitations, RSVP cards, menu cards, insert cards, thank you notes, stationery... or anything you can dream up.
QUESTION:Do you offer arch invitation templates?
ANSWER:We offer blank inDesign templates for our A2 and A7 arch and half arch cards on our free templates page (under the "Flat Cards" section). The templates have no text, so you can create whatever you'd like