Japanese watermark tissue is frequently used in invitations. What many people don't realize, however, is that there are many different types of this paper to select from. They are made from a few different types of plants and may be machine made or handmade.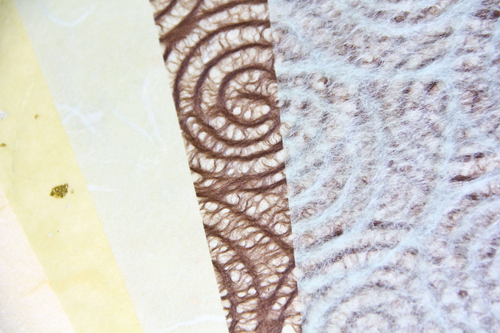 Sources For Tissue Paper
There are three main sources of paper that are used to make this type of tissue paper.
Kozo Plant - The majority of the papers are made from the Kozo plant. That's because this plant produces long, strong fibers that make durable paper (even though it's tissue-paper thin).
Gampi Plant - This wild plant is rare and tough to find. It can only be harvested a few months out of the year. However, the fibers are resistant to plants and dampness so they make really long-lasting paper.
Mitsumata Plant - This plant is cultivated on hillsides. It produces short fibers that are very soft and fine. The fibers are high-quality although not very durable.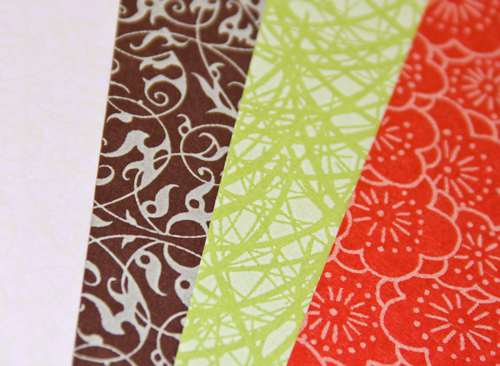 12 Types Of Japanese Tissue Paper
Goyu - This paper is made from 90% kozo plant. The other ten percent of the paper is usually sulphite. It is one of the most popular types of paper used to make Japanese tissue paper. People can print on this type of paper (albeit carefully). It is typically a handmade, acid-free white paper.
Hosokawa Ohban - Made from 100% kozo, this paper is stronger and can be used for projects that need more durability. For example, it works as a good backing for invitations. It is good for nearly any paper project that requires some mounting, layering or blocking.
Kaji - This very lightweight Kozo plant paper is not nearly as common to see used as some of the other types on the list. However, it's a good paper to use conserve other papers and invitations by wrapping this around them.
Kitakata - This type of tissue paper is made from the Mitsumata plant. It is a very silky paper. It is neutral in color so it's a nice addition to many different colors and types of invitations. It has a natural gloss to it that makes it very pretty.
Kizukishi - This Kozo plant paper is ideal for mending. That means that it can be used in areas where other papers tear. It is typically a bright white paper that is silky and lightweight yet has a hard surface. Its name translates to unadulterated paper with pure fibers.
Misu - This paper is very similar to the Kaji paper. It can be used for calligraphy and drawing. It comes in a range of different colors.
Okawara - This tissue paper is very similar to the mending paper Kizukushi. It is soft, supple and strong. The natural lines of the paper are usually not very visible.
Sekishu - Although it's not as common as the Goyu paper, this is an 80% Kozo plant paper that is similar to the Goyu. However, it is usually a deep cream color instead of a white paper. It is good for printing although it does have a natural fiber pattern to it.
Sekishu Kozogami Mare - Made from 100% Kozo plant, this type of tissue paper is more likely to be used for mending than printing. It is darker in color and yet finer and more translucent than regular sekishu paper.
Sekishu Kozogami Turu - This is quite similar to the Sekishu Kozogami Mare paper. However, it is not as fine or silky to the touch.
Sekishu Torinoko Gampi - In contrast, this paper is extremely soft and silky to the touch. It is transparent so it's a good tissue paper for layering.
Udagami - This is an opaque type of paper. It is commonly used to preserve artwork. This makes it a good choice for long-term preservation of favorite invitations.