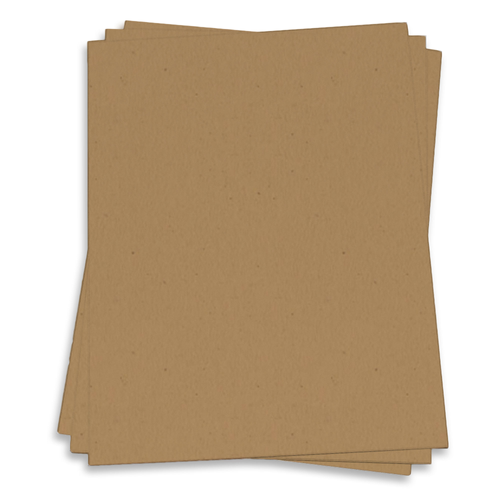 Kraft Brown Paper - 8 ½ x 11 Royal Sundance Fiber 70lb Text
Specialty Papers for Invitations
Product Description
Royal Sundance Fiber Kraft 70lb Text Weight Paper on sale at a super low price. Royal Sundance is on of the most an eco friendly paper brands manufactured in the USA. This light weight sheet is perfect for stationery, resumes and fun craft projects with your school or family. Royal Sundance Fiber Kraft is a dark brown kraft paper.
Category Description: 8 1/2 x 11 Card Stock Paper
About 8 1/2 x 11
You know it, your printer knows it, your photo copier knows it - it's standard sized 8 1/2 x 11 paper, and it's everywhere. Deemed the default paper size by most printing devices, 8 1/2 x 11 paper is easily recognized, easy to print, and therefore great for all kinds of creative projects.
Product specs
Item Code:
RSD811-KRFTFBR
Paper:
-
Format:

-

Size:

-

Size Name:

-

Color:

Brown

CMYK Match:

N/A

[disclaimer]
Finish:

-

Eco Features:

-

Brand:

Royal Sundance

Printer:

-

[disclaimer]
Print Template:
Visit Templates Page
Loading...
QUESTION: Is 8 1/2 x 11 paper the same size as A4 paper?
ANSWER: Though similar, A4 paper is not the same size as 8 1/2 x 11 letter size paper. A4 is a standard European paper size that measures 8.27 x 11.69 inches (210 x 297 millimeters).
QUESTION: Do You Offer Printing on 8 1/2 x 11 Paper?
ANSWER: Though this is not something that can be ordered through the site, we can print 8 1/2 x 11 size paper and card stock. Please contact customer service for details and for a quote.