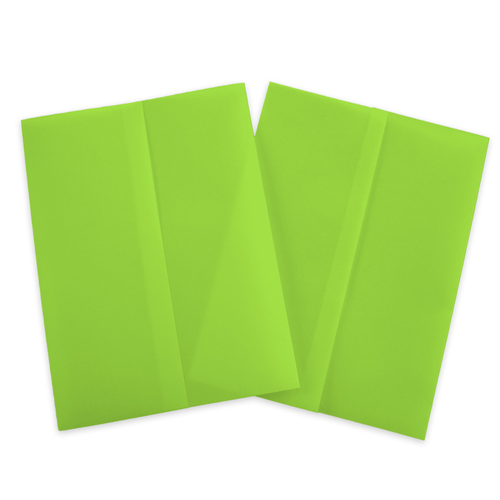 Leaf Green Translucent A7 Vellum Wrap - 7 x 11, 30lb Colors Transparent
Product Description
This green vellum invitation wrap is pre-cut to 7 x 11 inches, the perfect wrap for 5x7 invitations. Paper is a lightweight, 30lb translucent, see-through vellum. In order to accommodate a variety of invitation styles and thicknesses,
wrap is not pre-scored/pre-creased
. However, due to its light weight, it can be easily folded around your invitation suite. Wraps are sold blank. Shop our
printed vellum
to order your vellum invitation wraps printed.
Category Description: Vellum Wraps
About Vellum Invitation Wraps
Translucent vellum invitation wraps are a simple and stylish way to decorate and organize your invitation suite. Our wraps are made with premium quality vellum and are offered in a full spectrum of colors, each featuring a translucent, frosted glass appearance.
3 Sizes
Choose from 3 sizes:
5 1/2 x 9 1/2 inches - the perfect size for 4 1/4 x 5 1/2 (A2) invites
7 x 11 inches - the perfect size for 5x7 or 5 1/8 x 7 (A7) invites
8 1/2 x 12 inches - the perfect size for 5 1/2 x 8 1/2 (A9) invites
Each is designed to wrap around your cards with a one inch overlap.
Delivered Flat and Un-Scored for Your Design Convenience
Wraps are delivered pre-cut, flat, and un-scored (not pre-creased for folding). This is to accommodate a variety of invitation thicknesses and styles. A wrap surrounding an invite that is very thick or has may cards will require folding and overlap in a different location than a single card will.
Product specs
Item Code:
CCWP711-32
Paper:
-
Format:

-

Size:

-

Color:

Green

Finish:

-

Eco Features:

-

Brand:

Gmund Colors Transparent

Printer:

-

[disclaimer]
Print Template:
Visit Templates Page
Loading...