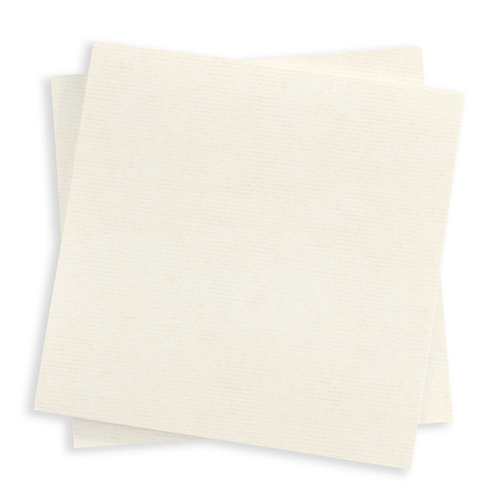 No Color Square Flat Card - 6 ¼ x 6 ¼ No Color No Bleach Felt 111C
Order this card printed using a larger screen: desktop/laptop computer or tablet.
Product Description
Organic White 6 1/4 x 6 1/4 square blank card - No Color: This soft white blank card is made with natural, organic No Color No Bleach cardstock. Card stock is a thick, heavy 111lb cover weight and is made with pure pulp and no dye for a simple, honest, high performance paper. Order blank or take advantage of our card printing service. Matching envelopes and papers are available. Card comes pre-cut to 6 1/4 square, popular size for menus, invitations, and stationery. Cards can be printed with a high end inkjet or with conventional methods, but due to this card's size, weight, and unique finish, we recommend ordering a sample to test prior to purchase.
Category Description: No Color No Bleach Blank Cards
Pure & Simple Blank Cards
No Color No Bleach blank cards are made with pure pulp, no dye, and long fibers for natural, high performance cards with superb printability. Simple in composition and design, they're great for minimalist invitations, greeting cards, and prints.
2 Natural Colors
No Color No Bleach cards come in two colors, each slightly varying from card to card due to the paper's natural composition.
No Color - a soft white with no dye
No Bleach - a tan with no dye and no bleach & subtle flecks and fibers throughout
Subtle Felt Finish
No No has a subtle European felt finish on both sides, best described as a soft linear texture.
Substantial, Heavyweight Card Stock
Cards are made with thick, heavy, 111lb (300 g/m2) card stock. This is a nice weight that is great on its own or as a base on a layered card.
Variety of Popular Invitation Sizes
No Color No Bleach cards come in a variety of standard, popular invitation & stationery sizes. From small A1 response cards, to popular 5x7 A7 invite cards, to unique square and slim cards, we have you covered.
Product specs
Item Code:
NOCOLOR-625C
Paper:
-
Format:

-

Size:

-

Size Name:

-

Color:

White

CMYK Match:

N/A

[disclaimer]
Finish:

-

Eco Features:

-

Brand:

No Color No Bleach

Printer:

-

[disclaimer]
Print Template:
Visit Templates Page
Loading...