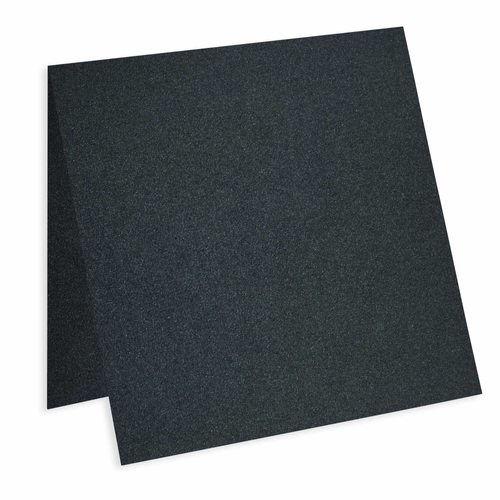 Onyx Square Folded Card - 5 ¼ x 5 ¼ Stardream Metallic 105C
Order this card printed using a larger screen: desktop/laptop computer or tablet.
Product Description
Cut to size & pre-scored these 5 1/4 blank square bi-fold cards are made with metallic Stardream Onyx Black color paper. This chic 105lb or 284gsm thick paper with its pearlescent finish on all sides is imported from Italy. Cards are 5 1/4 x 10 1/2 open and fold to 5 1/4 x 5 1/4 square. Sold in convenient small pack counts these are an elegant choice for all card making projects, wedding invitations & crafts. Paper is suitable for conventional print methods including offset or thermography printing. Although the card stock is laser printer compatible, its thickness may not be suitable for all home printers. We do suggest you read your printer documentation and test if uncertain.
Category Description: Stardream Blank Cards
About Stardream Blank Cards
Stardream metallic blank cards feature bright, vibrant color and a glistening metallic finish on both sides. Cards are available in a slew of popular sizes and in flat or folding versions. They are made of thick, heavy 105lb card stock that is pre-cut and pre-scored, in the case of folding cards.
Though we have had success printing these cards with a laser printer, due to their very heavy weight and unique finish, they may not be suitable for all home printers. We recommend ordering a sample and testing prior to purchase.
Conventional print methods including embossing and thermography can also be used on this stock. Pair with matching Stardream envelopes, papers, pockets, and wraps for a consistent look.
Loading...