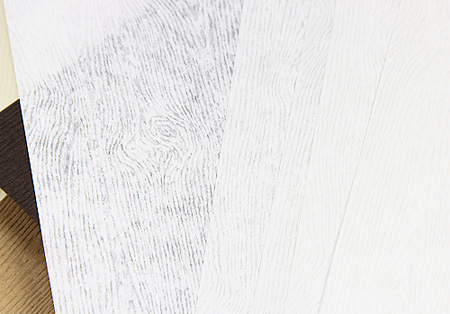 The Newest Member of the Wood Grain Family - Textured Wood Grain Vellum!
You've seen our wood grain papers, pockets, and envelopes, now feast your eyes on the newest member of the family, wood grain vellum!
With the same striking wood grain texture you know and love, but in a lightweight translucent, these sheets are truly one of a kind!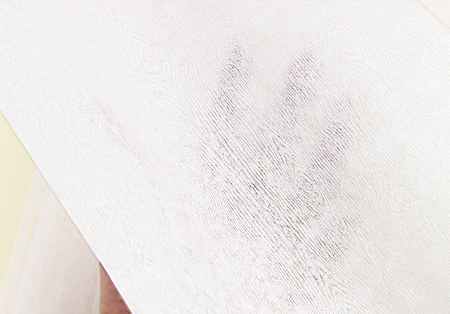 Cloudy in Appearance, Light in Weight, and Heavy on Uses!
With a subtle translucence, cloudy appearance, and a feel much softer than that of standard vellum, wood vellum is most comparable to parchment paper. It picks up just a hint of what's beneath it, most notably in the grooves of the embossed wood texture - it's quite different, quite funky, and quite versatile!
These are some ideas we came up with for these chic sheets!
Leave it Plain - Use it as a Decorative Layer
Wood vellum makes a really interesting decorative layer, especially when placed on top of papers that are dark in color.
It gives invitations a subtle contrast in hue, a tasteful dash of texture, and a whole lot of style!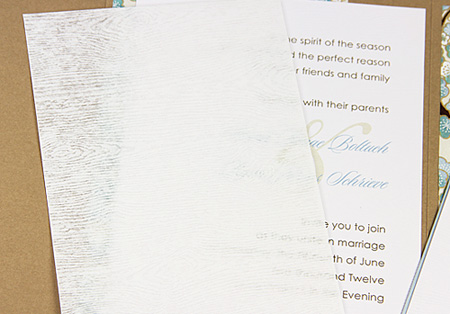 Or as an Invitation Tissue or Overlay
Because of its cloudy translucence, wood vellum works well as both an invitation tissue and as an intriguing invitation overlay.
Not only will it protect your invitation wording from smudging, but it will also give your invites a nice tactile effect, as guests will have to remove the soft, textured sheet before revealing the details of your event.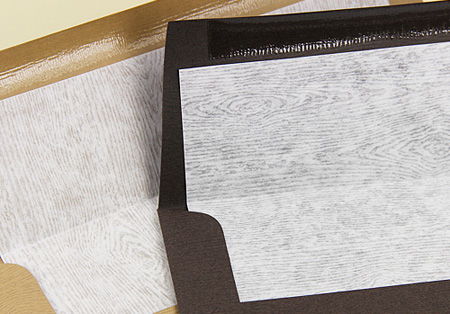 Or as a Super Cool Envelope Liner!
What looks great inside of a wood grain envelope? A wood grain vellum envelope liner of course!
White really pops against darker colored envelopes, making for nice contrast, prominent wood grain texture, and an envelope that looks just plain cool.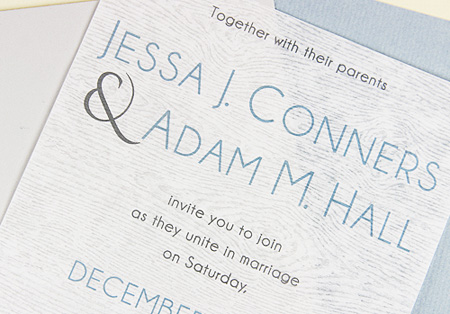 Print Right on It - Use it as an Invitation Top Layer
Pop a piece of vellum into your printer and use it as an invitation top layer, or program insert sheet, or. . . anything you can think of!
Since it will pick up the color of whatever you place beneath it, it can add some unexpected flare to your design.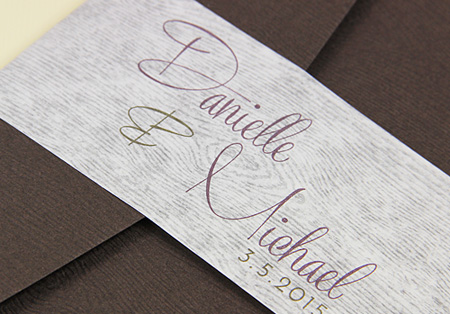 Or Try it as a Belly Band
Printed translucent belly bands look great wrapped around pockets, and even greater when they have a fabulous wood grain texture!
Of course, we've wrapped it around a wood grain pocket here, but any pocket would do!
- - - - -
Whatever you do with wood grain vellum, be sure to be creative, and be sure to share, because we'd love to see what you come up with!