1995
Just as his father's paper printing business was being sold, Larry Chase began selling blank wedding invitations to distributors.

1996
For the next few years, Larry worked out of his apartment, gluing paper samples into catalogues.
2000
Larry & LCI established their very first website.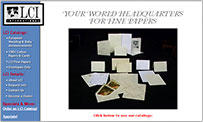 LCI hired their first employee from Employment Options. It would be just those two for the next couple of years.
2004
Major growth spurt for the company! Hired more employees, couldn't keep up with orders. (Website was updated by now, and the ecommerce concept was just taking off.)
2007
Larry & LCI received an award from the Governor's Commission on Employment People with Disabilities as an Exemplary Employer.
2015
LCI was selected by Gmund to represent the new Color System line in the United States.
Please enable JavaScript to see the video
Some might say that Larry was born into the paper business. His father and uncle started a paper business of their own back in 1948. At the start they sold wedding invitation stock to printers; eventually the company designed, converted, and printed invitations for stationers and printers. When the company was sold in 1995, Larry was left with a schooling on the ways of business management and, naturally, the ins and outs of the paper industry.
Chase started LCI Paper Company in 1995. His business grew quick and steady, with a consistent commitment to customer service and employee appreciation. The company currently operates in Marlborough, Mass.
An active community member, Chase has donated his time, money and resources to several surrounding causes, including: the local fire house, sponsored a local baseball and softball team, and donated paper to a local high school to write Valentines for the American troops in Qatar. For nearly 2 decades he has worked with Employment Options, Inc., a non-profit which helps people who have experienced various disadvantages find employment through their Workforce Development Program.
Chase also has a passion for helping young business hopefuls achieve their dreams. He sponsors a scholarship for Marlborough High School graduates, and also has a history of donating funds to young entrepreneurs to help make their business ideas a reality.
Chase, his wife and three children reside in Southborough, Massachusetts.
Kristen has been with LCI for over 5 years and worn many hats, but she's likely best known for her extraordinary blog, which is as informational as it is gorgeous to look at.
Kristen is responsible for the ever popular DIY how tos. From wedding invitations, to DIY accessories, to some of the most complex paper configurations you can image, Kristen is an expert at breaking it down bit by bit and making it perfectly accessible for customers.
It goes without saying that Kristen has extensive paper, print and stationery knowledge, as well as superior product photography skills. Working with papers to create beautiful invitations is one of Kristen's favorite things to do. She genuinely loves paper, and sharing that passion with her DIY fans.
In her spare time, Kristen simply can't stop thinking about paper, making specialty cards and invitations for friends and family. Kristen is always open for suggestions for blog posts, so don't be afraid to reach out.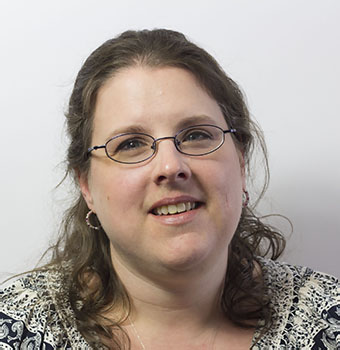 Jennifer M. Leavitt - Print Specialist
Jennifer has been with LCI Paper since July 2014. Before joining LCI, Jennifer worked at Turley Publications Inc., Common Wealth Printing Inc. and the graphics department of Athol Table Mfg. Co., where she honed her skills in printing, prepress, graphic design, and newspaper production. Jennifer has over 15 years experience working in the graphic design industry. She graduated with her Associates Degree in Graphic Design from Mount Wachusett Community College in 1999.
An average day at LCI Paper includes customer service, printing proofs and producing beautifully printed envelopes in colorful high quality paper. Jennifer's experience is a great asset when it comes to the high attention to detail needed to ensure that LCI customers receive a great quality product. What she enjoys most about working at LCI Paper is knowing that the envelopes she prints are going to be used to enable someone to have one of the most special days of their lives. It is also a lot of fun getting to handle all of the beautiful paper products on a daily basis.
Jennifer lives in Orange, Massachusetts with her fiancé Joshua, her two year old son Justin and two step children Donovan and AJ. In her spare time she loves to spend time with her family doing family outings like the zoo, or just hanging out in the yard having a BBQ.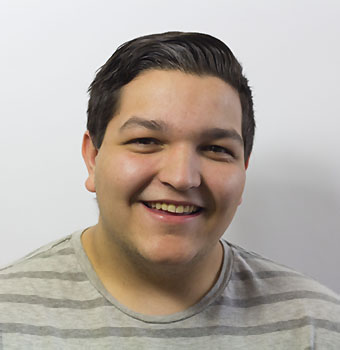 Ryan Lewis - Video Content Specialist
Ryan Lewis joined LCI directly after graduating from Marlborough High School in 2014 as a video content specialist. In high school he was on Student Council, National Art Honor Society, and won an award for art that was displayed in the Worcester Art Museum.
For LCI, Ryan shoots in-house product videos for product launches and social campaigns; he also works in the warehouse.
Ryan is an avid snowmobiler, and spends every winter weekend either traveling to Maine or dreaming about it. In the warmer months he enjoys off-roading in his Jeep, hanging out on the boat, taking pictures, going to car shows and just about anything to do with the outdoors.
Susan's father, in addition to working in the publishing department for the Christian Science Monitor, had a small print shop in his backyard where he filled orders for local businesses, and also distributed wedding invitations. Completely coincidentally, the company he bought from was called Chase - LCI's Larry Chase's father.
Before LCI Susan worked for several other printing companies, and for 10 years served as the Customer Service Manager for Data Guide Business Forms. Susan left that job to work as the office manager for her husband's drilling and blasting business Nitro Dynamics for 14 years.
Susan graduated in 1987 from Salem State University with a B.S. in Business and minors in Accounting and Psychology. She lives in Lunenburg with her husband Greg and three children: Tyler, Kayli, and Cooper. When she's not driving her kids to sports events and school activities, she's dreaming about her yearly escape to Aruba.
NEXT PROFILE
Envelope Addressing
White Print on Colored Envelopes
Custom Cutting
Invitation Tutorials
Printing Templates
Coupons & Special Deals
Same Day Shipping (on select orders)
$7.99 Flat Rate Shipping (U.S. only)
Free Sample Shipping (U.S. only)
International Delivery
Ingredients
What makes us the best at what we do.
Customer Service
Customer Service
LCI has consistently earned the highest rating in customer satisfaction for one reason: We love our customers.
A lot of companies hide their phone numbers, but we want you to call us with all of your questions and concerns, Monday - Friday 9:00 - 5:00 (EST).
Our Customers Love Us
Our Customers Love Us
"I ordered tissue paper inserts for my wedding invitations, good quality paper. I was very satisfied with my order. I would order again and I would also refer my friends and family to this company."
Irene A. from Arizona
"Good quality product, timely service!"
Juanita K. from Illinois
"I ordered the Granddaddy of all sample packs. I'm in serious trouble! The biggest problem now is what to order first…."
Douglas M. from North Carolina
"I am always impressed with the customer service LCI Paper provides me. They take it above and beyond, and help me with all my needs. I will continue to use this vendor."
Sydney J. from New York
"I had the BEST experience dealing with this company."
Gina M. from New Jersey
LCI Partners with GMUND
LCI Partners with GMUND
In 2015, LCI joined forces with Germany's Gmund – the world's finest paper – to be the preferred carrier here in the States.
From every aspect of the remarkable Gmund Colors System – Matt, Transparent, Felt & Metallic – you can order this exclusive paper right here at LCI.
Do You DIY?
Do You DIY?
Our blog is full of great videos, new product info, and tutorials of all kinds to inspire and guide you through pretty much any project.
Here are some customer favorite tutorials:
Weddings:
Invitations:
Envelopes:
Community: How We Give Back
Community: How We Give Back
"To me, the local community is the soul of any business. I have been very fortunate with LCI, and not supporting the local community was never an option. In the past I have donated anonymously, but am now starting to speak out about my efforts. I hope it inspires other business owners to do the same."
Larry Chase, CEO
Favorite initiatives include: Valentines for the troops with Marlborough High, donations to the Perkins School, Rosie's Place and the local Boys and Girls Clubs, and local scholarships for graduating seniors.
In 2015, LCI celebrated fifteen years working with Employment Options, a nonprofit that serves those looking to improve and manage their mental health and wellness, and get involved with vital programs to assist in their recovery throughout diverse recovery services, such as Workforce Development Programs.
Work For Us!
Work For Us!
Wanna work for us? You know you do.
We are always on the lookout for folks interested in:
Marketing
E-commerce
Videography
Printing
Blogging
Customer Service
Warehouse work
Internships